The New Yorker Features Mishkin Gallery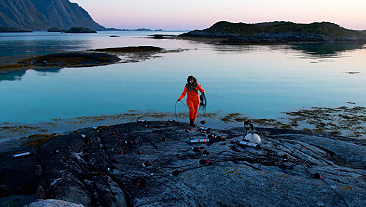 The New Yorker had high praise for Mishkin Gallery's latest exhibition, Who Speaks for the Oceans?, in a review that spotlights Baruch Professor David Gruber, the marine biologist and "whale whisperer" who co-curated the project.
Forbes Ranks Baruch #2 Public College in New York
In its rankings, Forbes recognized institutions that "offer an excellent education at a great price, graduate high-earners, and propel students to become successful entrepreneurs and influential leaders in their fields."
UN Internship for Baruch Graduate Student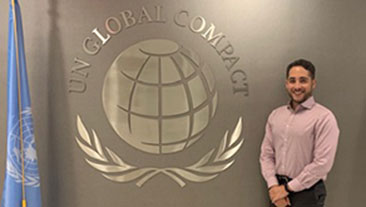 Josh Solomowitz ('23) received the prestigious Harold W. Rosenthal Fellowship in International Relations and recently completed a three-month internship at the United Nations Global Compact, which focuses on corporate commitments to sustainability initiatives.
Diversity, Equity, and Inclusion
September is Latinx Heritage Month, and Baruch College is proud to celebrate the contributions and achievements of the Latinx community with a series of programs. This year's theme, "Unidos: Inclusivity for a Stronger Nation," highlights the resilience, perseverance, richness, and diversity of Latinx culture.
DEI Fridays
The Baruch College community is invited to attend DEI Fridays, a series of virtual sessions presented by the Marxe School DEI Committee. Visit their website to view the complete list of events, browse resources, and more.