Explore Baruch's Schools
Learn about Baruch's schools below, and find more information on our undergraduate and graduate academic degree programs:
Engage with President Wu
President S. David Wu has launched a monthly blog to discuss ideas, research, and perspectives that impact the campus community, higher education, and society. Read, share, and comment on his latest post, "The Future We Yearn to Return."
Voices of Baruch
Celebrate Women's History and Our Diverse, Dynamic Community
The history of women at Baruch College is an integral part of our story. Women have been students at Baruch since the very beginning—for more than 90 years when coeducation was still a radical concept. As part of the College's celebration of Women's History Month, learn about the exceptional work of women from around Baruch.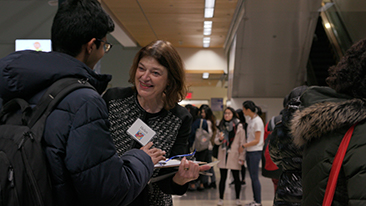 Helen Mills, the first woman to lead the Baruch College Fund, shares how it helps with social mobility
Explore Additional Voices: