Baruch Business Academy Model Expanding
Baruch College President S. David Wu (fifth from left) and Queensborough Community College President Christine Mangino (fourth from left), along with senior leadership from both colleges, met to discuss the launch of the QCC-Baruch College Business Academy. This expansion of the Baruch Business Academy will provide a clear, well-defined path for eligible QCC students who earn an Associate Degree in Business Administration to then transfer into the Bachelor of Business Administration program at Baruch's Zicklin School of Business.
Student Wins New Obama-Chesky Scholarship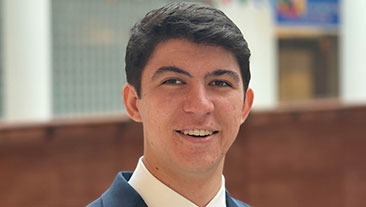 Baruch undergraduate Bricen Fisher ('24), a statistics and quantitative modeling major at the Zicklin School of Business, was selected from a nationwide pool for the newly launched Voyager Scholarship, created by President Barack Obama and Airbnb CEO Brian Chesky to "shape the next generation of young leaders."
President Wu on ABC News
Baruch College President S. David Wu was featured by ABC News in a national segment on two Supreme Court cases concerning affirmative action in college admissions. The interview first aired on ABC News Live on October 28, and then on Good Morning America on November 2nd. Watch the segment on YouTube. (Photo Credit ABC News)
Diversity, Equity, and Inclusion
Baruch is committed to fostering an environment that promotes diversity, equity, and inclusion and celebrates the community's rich, multicultural heritage. Read more about the College's efforts
DEI Fridays
The Baruch College community is invited to attend DEI Fridays, a series of virtual sessions presented by the Marxe School DEI Committee. Visit their website to view the complete list of events, browse resources, and more.